UPDATE – this version has been superseded by the version available here.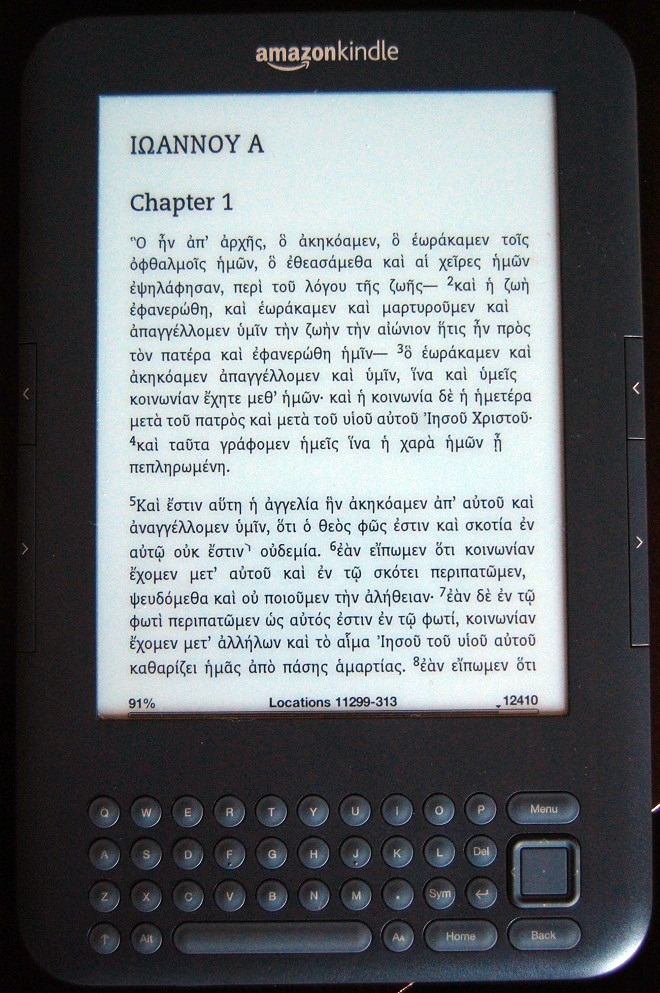 I was overjoyed to find out about the publication of The Greek New Testament: SBL Edition, a new critical edition of the Greek New Testament with a very liberal license ("You may freely distribute the SBL Greek New Testament (SBLGNT), but you are not permitted to sell it on its own, either in print or electronic format").
Thanks to the above license I am pleased to make available an experimental conversion of the SBLGNT to ebook format that I made (.mobi and .epub). This is only the text and does not contain the apparatus. (I'm not ready to tackle the apparatus yet, if ever.) Please report any bugs.
Although the text displays very well on my Kindle 3, viewing in the Kindle for PC app produced little boxes where some characters should be. I am interested to hear if this conversion displays properly on older Kindle models.
Behold the SBLGNT's first convert.
Download
Version 1.2 is my conversion, which features a table of contents and chapter breaks. Timothy Lee's version features dictionary-like look-up of any verse based on the first three letters of the book (note: Philemon is phm), the texual apparatus and front matter.
Version 1.2 – sblgnt.mobi – sblgnt.epub (Table of Contents, chapter breaks)
Timothy Lee 2.0 – sblgnt-timothylee-2.0.prc (complete with apparatus) – RECOMMENDED
Release Notes
2011-06-10 – Timothy Lee 2.0
2011-04-03 – Timothy Lee's version added
2011-01-11 Version 1.2 – added quick jump to chapters
2010-12-08 Version 1.1
More on the SBLGNT
Method of Conversion
I started with the SBLGNT text in XML.
Created XSL and CSS stylesheets.
I applied the stylesheets with Mobipocket Creator to create an HTML file.
I saved the HTML file as a DOC in Word
Emailed the HTML file to my free Kindle email address for Amazon conversion.
AZW file appears on Kindle.
Connect Kindle to PC and edit metadata with Calibre.