I was reading some toilet-side material today…Now admit it: we all have it. I've always thought one can tell a lot about a person from their toilet-side reading. Some like National Geographic, some like People magazine, I even remember someone liking Readers Digest, most of us good Christian folk have the devotionals or the praying for your children booklets… Well, today I read the words:
"God take away my spirit of fear and replace it with love, love for myself instead of condemnation because I was your idea".
That came out of a book called Tea Leaves. I have a really bad habit these days, of saying "I wish I was". I wish I was a book person, I wish I enjoyed cooking, I wish I didn't have grey hairs. Today's I-wish is "I wish I was an animal person" because I feel passionate about one animal in particular and I wish my feelings for him could stretch out to all animals but they just don't. I want to introduce you to Nero, our guard dog. This dog has my heart in a way unlike any other. I have SO much respect for this dog that I can, hand on my heart, say I would cry real tears for him if something bad were to happen. He is calm and gentle, he is like a good father. You can trust him but don't mess with him, because he will bark in your face if you step on his tail–tried it. Nero literally sits directly outside our front door 90% of time, so stepping on his tail occurs more often than his tail would prefer.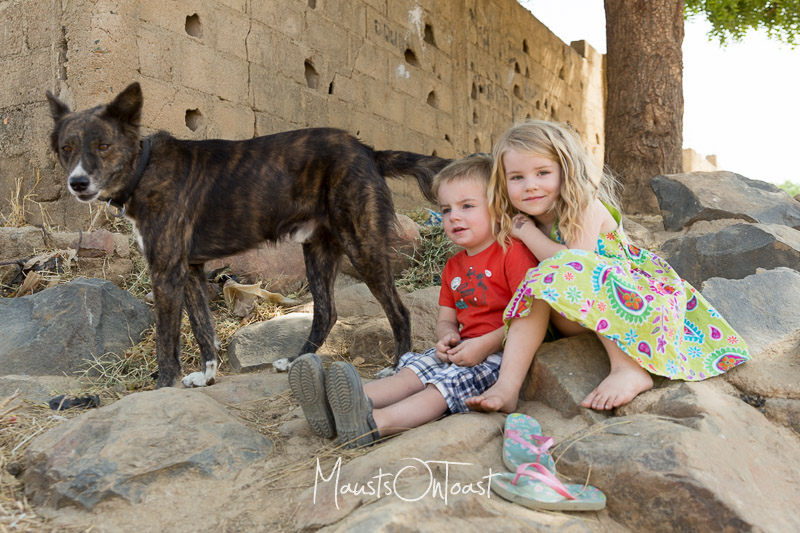 These feelings crept up on me one sunny day when Henry and I set out on a walk to our missions centre. We stepped out of our gate and Nero followed us. He really followed us. All the way: down streets, across streets and down and across more streets. I brushed it off as a curious dog thing (I know zero to nothing about dog habits). And when we entered into the office compound I didn't think anything of him and if I did it was just slight concern of whether he could find his way home again. But lo and behold, when Henry and I left to return home, there was Nero! Waiting to escort us home. Yes! This guard dog goes above and beyond the call of duty. He had waited unattended for 30-40 minutes for us. And I know many of you are now starting to think I'm joking and being far too dramatic about my feelings for this dog. But I'm so not. One thing that became very clear, very quickly to me was that the local people here hate dogs. They are petrified of them. They will run! They will throw rocks. They will take off their shoe to protect themselves. I have to stifle my giggles sometimes because it can be hilarious watching a grown man pegging it down the road frantically, as Nero chases him at top speed. My heart does break when the children passing by scream in terror out of fear of being attacked. I wanna hold them and show them that Nero is a friend (at least to me and my friends), but I'm usually in my car. You see Nero likes to nip out at every opportunity. He is surveying the exterior situation, taking note of bodies, sounds and all possible threats. If Nero's name wasn't so short we would nickname him Bolt. He can run so crazy fast. This one time Drew took a moto taxi in to the centre of town. A few miles! And Nero ran along side him the whole way….and back! It wasn't until I told a colleague this that I realised how dangerous for Nero this was and quickly swore to myself that as dedicated as he is we need to think of his safety, too. But bless his scruffy, wolf-like little coat off, he was panting so hard after that experience.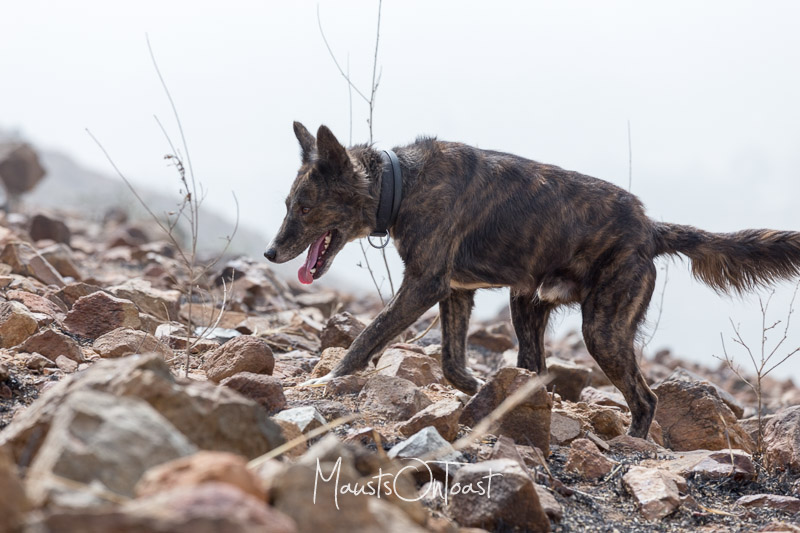 Ah Nero….my own personal bodyguard. I have this funny sense of pride towards him. Because he knows my voice. Walking down the road as he weaves in and out of us, I feel like a super star with her entourage. People don't approach me, they just call out from a distance. Still smiling and greeting the white woman with friendly gestures. But I feel, well honestly… special. Sometimes he gets too close and you see people getting nervous. And this is my fav moment, because all it takes is a quick "Nero! Nero!", in a gentle French accent and he comes right back into ranks and trots alongside you once again. I've just never felt this way about an animal before. It isn't even like I've grown up with Nero or had him since he was a puppy. I met this shaggy looking mutt roughly 7 months ago. And it wasn't love at first sight because I'm so not an animal person. But it is as clear as day that, Nero fully understands his role as guard dog. I'm impressed with him to say the least. I know what you want to ask….what language do you speak to him in? Good question. Nero's first and former family were German. And, no, I don't speak a lick of German. Secondly, he lives in a predominantly spoken Fulfulde culture. And I speak two words of Fulfulde, hello and fine thank you. French then? Yes I do think he understands a lot of French. In fact, he probably understands a lot more than me….ah Nero….my hero. Sadly I don't really talk to him. Knowing his name is enough for me. His actions speak volumes and I feel loved. That's all we need. There is another side to Nero. A fierce, ferocious side. And it normally comes out after dark. If you aren't in love with him as much as I am already then prepare yourself. Nero sits outside our house, in view from our bedroom, every single night (intruders beware!). When this dog sleeps, I don't need to know because in my eyes he never sleeps. I can assure you though that when Nero hears something or sees something at 10pm at night and has what I call a barking fit, my adrenaline kicks in to high gear and my heart is pounding 10:1. We are safe, I feel safe. But we are aware of the threats. Our minds are never too far from thoughts of break-ins and worse. And I'm not naïve–if they want us, my furry hero probably doesn't stand a chance. But he may buy us some time. We've been told 5 mins can save us. We take that barking seriously, let's just say that. So there you have it. I'm learning more about myself everyday, but more importantly I'm learning of God's intricate details. Nero was God's idea, too. That intelligence, that faithfulness, that commitment. All things I am experiencing for the first time in the eyes of a dog. Animal lovers, I still don't get you, I'm sorry. But I have found renewed respect for you.